How it works?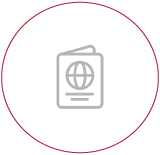 Documents
Upload your personal documents
Registration
Company gets registered
Services
Additional services, such as bank account are processed
Company Kit
Receive your company kit in full confidentiality
St Lucia Company
Good to Know
St.Lucia enjoys 0% Taxation, no auditing and no paid up capital requirement.

St. Lucia's international financial services industry has sprung up as a result of the country's need to diversify its economic base, which — as a beneficiary of the U.S. Caribbean Basin Initiative, a member of the Caribbean Community and Common Market (CARICOM), and the Organization of Eastern Caribbean States (OECS) — is ripe for substantial expansion and growth.
Main Characteristics
Governing corporate legislation
St Lucia International Business Companies Act of 1999 and International Business Companies Regulations, 2000.
Information published relating to company officers
There is a public registry. However, no names of shareholders, directors and officers are visible. Only the momorandum and articles of association are publicly accessible.
Confidentiality
St Lucia offers a high level of anonymity and privacy. The International Business Companies Act provides for confidentiality of shareholders, directors and officers.
Accounting requirement

No accounting/reporting requirements. However, The IBC is required to keep financial documents (receipts, invoices etc.) to reflect the financial position of the company. These documents must be kept at the company's registered office in St Lucia.
Taxation

No taxes of any sort for all transactions made outside of the jurisdiction, and a 1% tax on local transactions.
Legislation

Modern offshore legislation.
Time to form

St Lucia has a fast and efficient registry: it takes about 48-72 hours to register a company.

Stability

Stable jurisdiction with a very good reputation.
Communication

Efficient communication means.
Time zone

Convenient world time zone: UTC/GMT-4
Paid up capital requirement

No paid up capital requirement.
Basis of legal System

Under Civil Law and Common Law.
Minimum directors/shareholders

Minimum of 1 director/shareholder
Bearer shares

Bearer shares not permitted
Documents Required
for the Creation of the Company
A certified copy

Certification of a passport can be made by a notary, an attorney-at-law, a bank, a public officer, or in accordance with SFM indications. Kindly consult your dedicated account manager at SFM to obtain precise information.
of your passport, notarized/proof of domicile dated less than three months, and a letter of reference from your bank.**
* Subject to the constraints of the due diligence procedure.
** Documents must be provided for every person related to the company.
Disclaimer: Nothing on this webpage shall be construed as a contractual commitment or as a warranty. Services conditions are governed by the applicable terms and conditions.
.docList{display:none}.compOrderBttn{margin-left:8%}.jurbottomBlock{padding:25px 2px 0 2px;width:62%}.priceBttn .page-button.medium{height:58px;line-height:58px;font-size:13px}.fixedWidthBlock>div:nth-of-type(2){min-height:236px}a.factsheet,a.coidoc{color:#90231d;font-style:italic;font-size:13px}@media all and (max-width:940px){.jurbottomBlock{width:auto}.priceBttn .page-button.medium{margin-top:25px}.priceBlock p{padding:10px 0}}@media all and (max-width:1300px){.priceBttn .page-button.medium{margin-top:25px}.btnsContainer{margin-top:45px}}@media all and (max-width:1407px){.priceBttn,.compOrderBttn{text-align:center;margin:0 auto;float:none}.compOrderBttn a.button-red{display:inline-block}.fixedWidthBlock>div:nth-of-type(2){min-height:300px}}@media all and (max-width:1580px){.priceBlock p{margin:0}}